In one of the most ambitious product launches in its history, Apple unveiled two new iPhones, a smartwatch and a mobile payments platform on Tuesday.
The iPhone 6 and iPhone 6 Plus are bigger, rounder and faster. The Apple Watch does more than any smartwatch on the market today. And Apple hailed the Apple Pay payments system for its security and ease of use.
New, bigger iPhones: "Today, we are launching the biggest advancement in the history of iPhone," Apple CEO Tim Cook said at an event in Cupertino, Calif. "They are without a doubt the best iPhones we've ever done."
The iPhones have curved edges and bigger screens that measure 4.7 inches and 5.5 inches, up from just four inches on the iPhone 5S.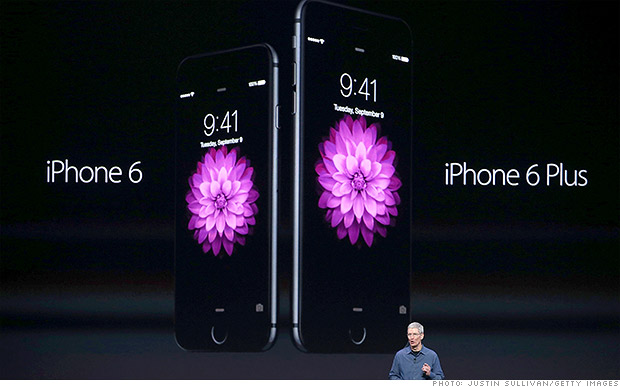 Crucially, the bigger displays allow for bigger batteries: 11 hours of video watching on the iPhone 6 and 14 hours for the iPhone 6 Plus — up from 10 hours on the iPhone 5S.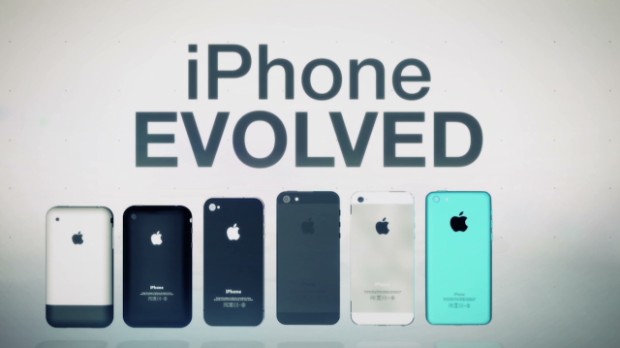 The iPhone evolved
Both new iPhones feature Apple's new A8 processor, which is 25% faster than the iPhone 5S. The M8 co-processor will allow fitness apps to tell the difference between walking and biking and even measure your relative elevation.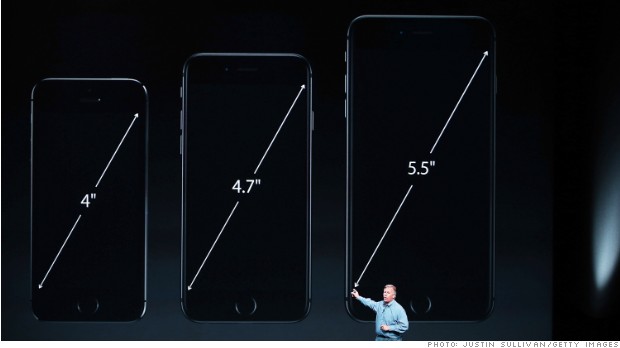 The iPhone 6 and iPhone 6 Plus will feature an 8 megapixel camera that comes with a new sensor that Apple claims will help the camera focus faster.
And the iPhones will come with Apple's new iOS 8 software, featuring a new HealthKit application that monitors users' heart rates, sleep, weight and blood pressure among other health-related information. Apple said iOS 8 will be available Sept. 17 to customers who have an iPhone 4S, iPhone 5, iPhone 5C or iPhone 5S.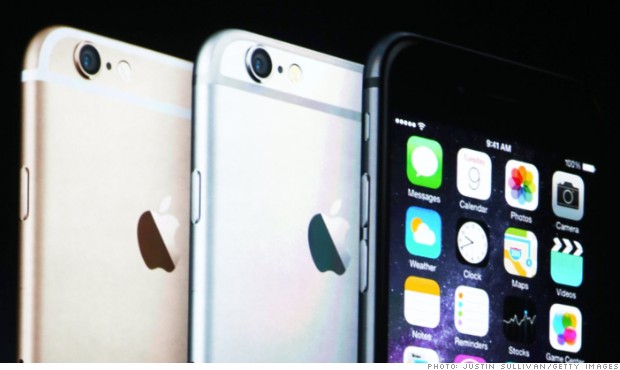 Both iPhones will be available Sept. 19 in the United States and eight other countries. Pre-orders will begin on Friday. The 16 GB iPhone 6 will be available for $199. The 64 GB version will cost $299; $399 will get you 128 GB. The iPhone 6 Plus will start at $299.
The 16GB version will cost £539, 64GB will be £619, and up to £699 for the 128GB version.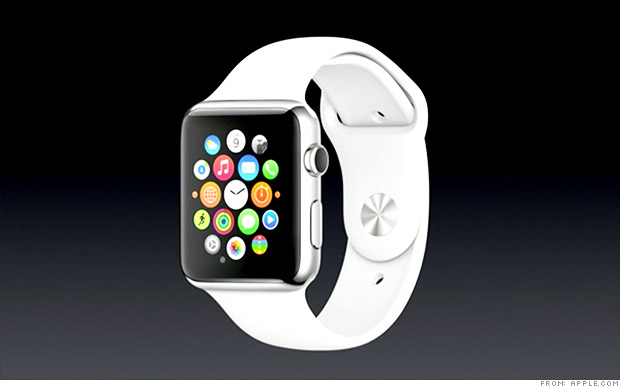 Apple Watch: Apple (AAPL, Tech30) also unveiled the Apple Watch smartwatch, the company's first wearable device. The Apple Watch pairs with the new iPhones to display notifications. It features a magnetic charger, health and fitness apps and a crown that controls zoom and scrolling with a twist. Oh, and it will tell time too — allowing users to choose between multiple watch faces.
Apple said it will sell three versions of the Apple Watch, including a sports model and an 18 carat gold model called the "Apple Watch Edition." The Apple Watch also comes in two sizes, one slightly smaller than the other.
Tags: Apple, apple watch, iPhone, iphone 6, iphone 6plus